Helpmonks in Q1 of 2021: What a start
Helpmonks in Q1 of 2021: What a start
Following the Live Chat tool and the Email Marketing Platform release in December 2020, we started 2021 enthusiastically to keep the momentum going.
January
January saw us moving to a new platform for our RoadMap. While the Trello RoadMap served us well for over five years, it was time for something new. A platform where we post a RoadMap, our users can vote and comment on requests, report on issues, have release notes, and foremost integrate into our system -> https://updates.helpmonks.com/.
We've also started making headways in the UI of Helpmonks overall as we are working on a brand new UI (scheduled to be released in Summer 2021).
As email delivery is at the very core of everything we do, we've partnered up with Sendgrid to provide our customers with a robust email delivery service. Our customers can switch to these SMTP servers free of charge.
February
After a month of planning, the Helpmonks team let loose in February. This month saw several new releases and enhancements to Helpmonks.
Automated Email Drip Campaigns
True to our new direction, to evolve into a complete Customer Engagement Platform, we announced the availability of automated email campaigns, aka email drip campaigns.
As a fully integrated system for your customer conversations, every part of Helpmonks works with each other. Hence, you can add contacts to your distribution list or drip campaigns from any place in Helpmonks. Besides, we've updated workflows to make this even more automated. This email automation post goes into more details.
Manage customer data everywhere
Our vision for a system that allows you to manage your entire customer conversations becomes more accurate with the recent enhancements. Like working with direct contact labels in the sidebar or adding contacts with one click to a distribution list or a drip campaign.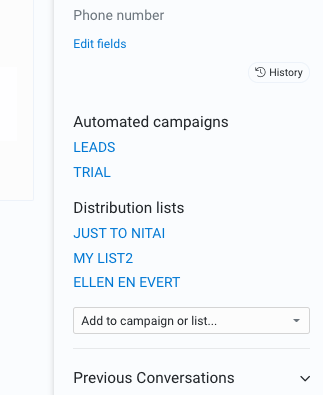 We've also added many new features to the detailed contact information. Since the Live Chat release, you could quickly see the past chats within the customer's profile. Now, you can not only know the distribution lists or automated email campaigns the contact belongs to but are also able to add or remove them accordingly.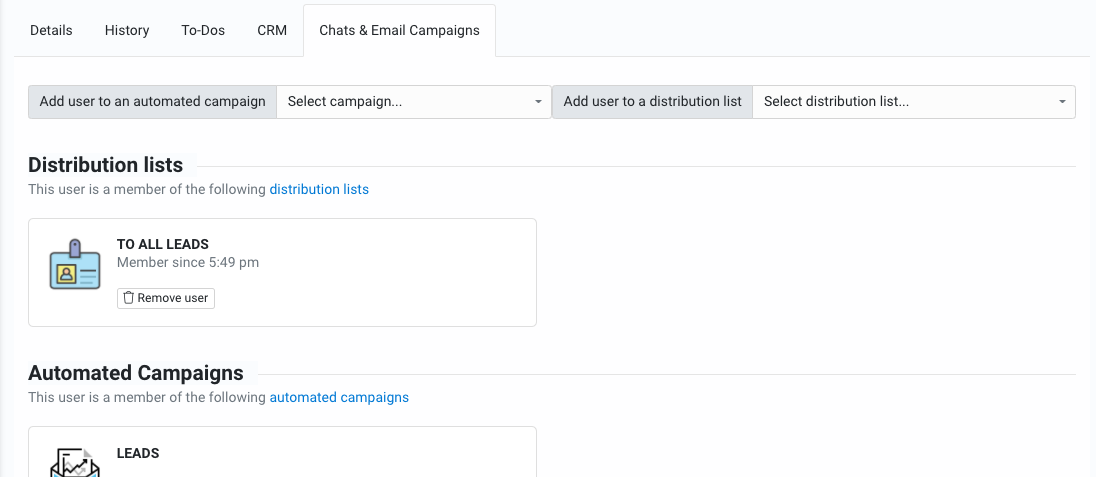 Overall enhancements to Email Campaigns
We've also added the option to schedule sending your marketing campaigns. Furthermore, there is now a summary for each automated email campaign that conveniently shows your subscribers' states. Moreover, we made it possible to quickly apply an action to a contact, e.g., pause, etc., within the list. Besides, we added a contact search to all campaigns and distribution lists.
Reports for Live Chat agents
The new report for all Live Chat agents shows each agent's satisfaction rating over the given time-frame. Incredibly convenient is the option to jump directly to the chats that, for instance, have a bad rating.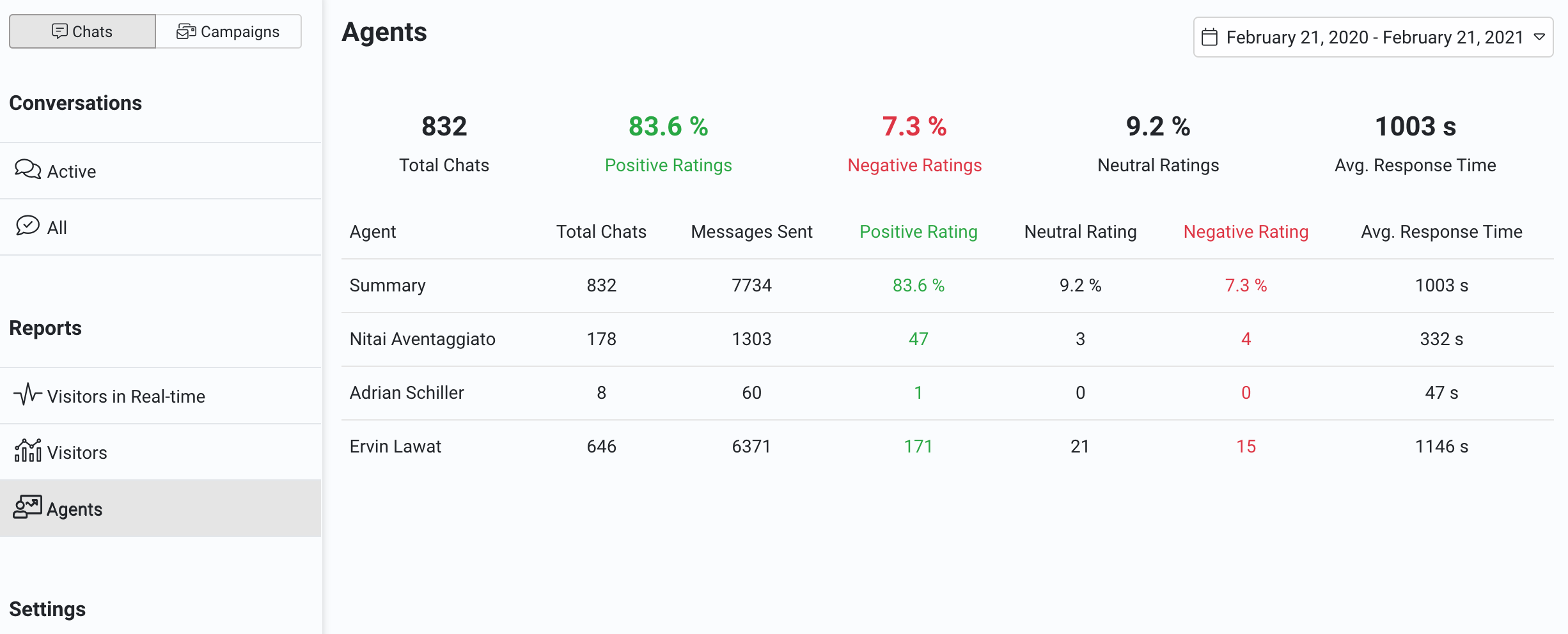 Moved the notifications
Notifications found a new home when we moved them to the bottom right corner. Feedback from customers has shown that this increased their productivity. They are easier for the workflow than in the right top corner, potentially interrupting your work.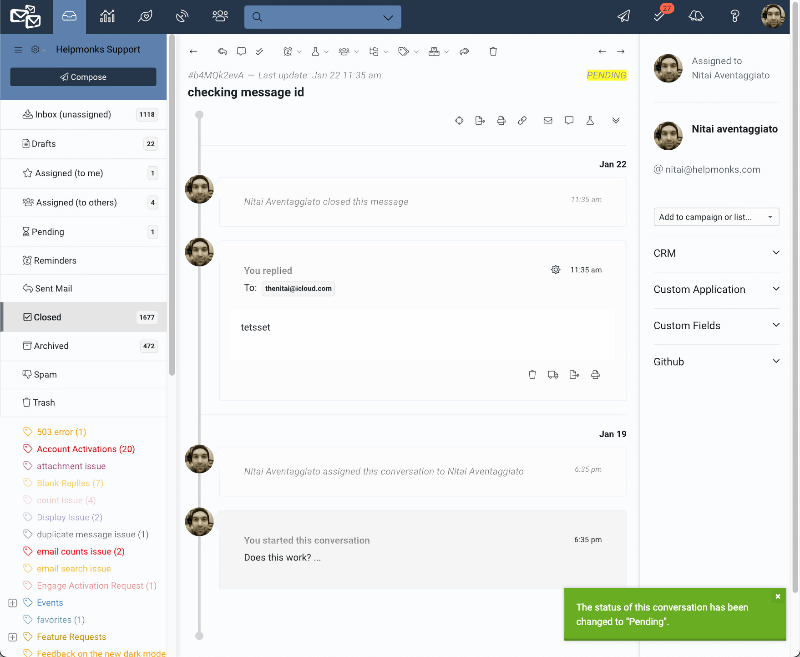 Enhanced settings for default assignee and status
While we were under the impression that our default settings for the assignee and status were suitable for all circumstances, we learned that our customers wanted more flexibility.
We've overhauled our approach to these default settings. And made it so that you can find the option to set your default behavior for the assignee and status for a new message, for a reply, and notes, independently.
We also fixed some issues and added or enhanced other parts of Helpmonks in February, all of which can be explored in our public release notes.
March
After an eventful month of new features, we continued to refine the system further based on our customer's feedback.
Users of our email drip campaigns loved that we are now showing an entire timeline of a user's actions.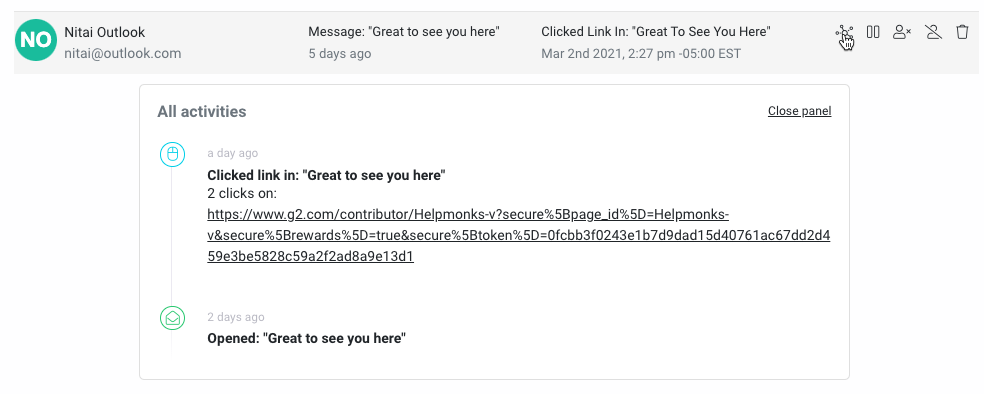 Besides, we added Automation to Email Drip Campaigns. You can add several automated actions based on the recipient's message activity. For instance, re-send the message, or jump to another message if the recipient didn't open your email or clicked a link. It's a fantastic addition to the email drip campaigns and available in your Helpmonks account already.
Our customers use Helpmonks to increase their team productivity. Hence, you can now double-click on any conversation, and it will open in a separate browser window. Another addition is the check for one or many email addresses in the CC within a workflow.
On the topic of customers, your contacts list loads now much faster. The filtering by labels has been enhanced. We added convenient ways to manage your contacts within the list, e.g., add labels, update companies, etc. Additionally, importing contacts by a CSV file has been re-factored to work better and faster.
After 90 days of improving Helpmonks so our customers can manage their conversations better and releasing new tools to increase sales and marketing, we saved the best for last.
Form-Builder: Create contact forms or forms for your email campaigns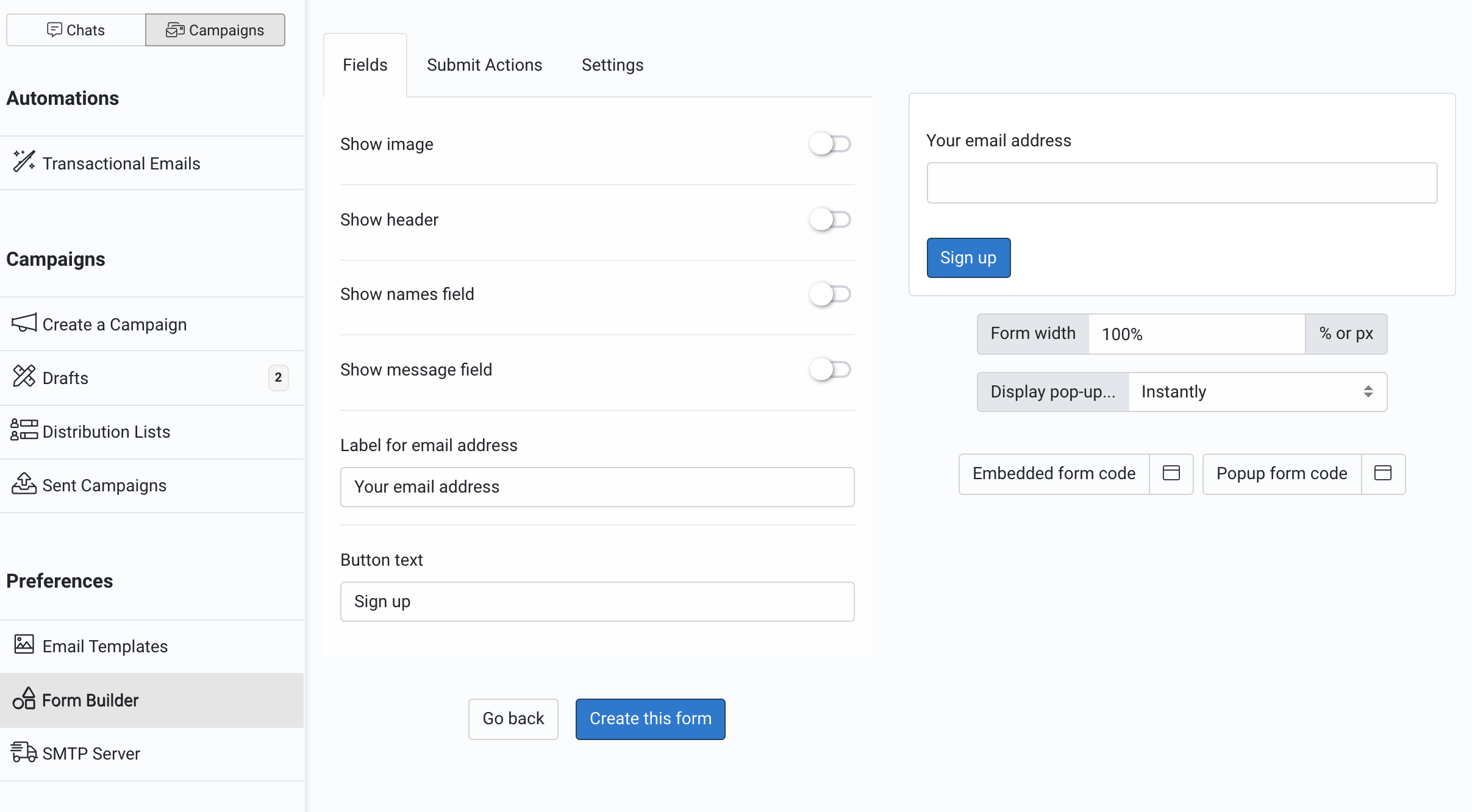 While we encouraged our users to use the API to add contacts to a campaign or a distribution list, we knew that this was not the optimal choice for all users. We knew we could do better.
Enter the Form-Builder, which, of March 30th, 2021, is now available to all customers of Helpmonks. Independent of their plan.
The Form-Builder makes it easy to create a form that can either be embedded on your site or shown in a popup window. You can design a contact form and include it on your landing page, online store, blog, or company website.
Alternatively, create a Form to add subscribers to your distribution list, email drip campaign, or send an email to your mailbox in Helpmonks.
What's next?
Our new Reports are coming out soon. We will make them available as an optional switch, i.e., "Preview the new reports" within Helpmonks shortly.
As hinted many times, we are working on a new User Interface. The new functionalities in Helpmonks and our positioning as a Customer Engagement Platform pushes us to create a holistic design approach.
Lastly, to complete our vision of a fully integrated self-help customer service solution, we will also introduce a knowledge base for Helpmonks.
We hear you
If you are new to Helpmonks, one of our loyal customers, know that we read and reply to every feedback no matter your plan level. Use the feedback feature within Helpmonks to reach out to us.
If you are not yet a customer or looking to make a switch to a system with marketing power and a company that cares, please take a look at Helpmonks or sign up for a free trial.
Wednesday March 31, 2021